Sontal Collagen Powder HC Cherry 330g
R 445.00
SONTAL BioActive Cherry Peptan® CollagenHC is a safe effective supplement that enables your body to rebuild and maintain its collagen reserves to help you look and feel young again.
CollagenHC Contains Hyaluronic Acid and Vitamin C
Stevia Natural Sweetener – No Artificial Additives.
Format: Powder | Volume: 330 g
Serving size: 11 g | Servings per container: 30
Category: Food Supplement
Payment options during checkout: (1) Pay securely online. (2) Pay via EFT after placing your order.
Free shipping on orders over R 1 000.00!
Dispatch same day as order
Customer Satisfaction
Secure Payments
Description
Sontal Collagen Powder HC Cherry 330g
Get Collagen, it will improve your quality of life.
What is Collagen?
Collagen Type 1 is a macronutrient and consists of protein arranged in a unique and extremely strong triple helix structure. It is the most abundant protein in the body, more than 30% of the protein in your body is collagen, which makes it one of the most important structures in your body.
70% of your skin consists of collagen type I, it is the structure in the skin that gives your skin its firmness, it holds the hyaluronic acid for skin moisture and elastin which gives your skin its elasticity.
Where in the body is Collagen found?
90% of your bone consists of collagen type I, which is the main structure of your bones. It serves as a scaffold for organic minerals such as calcium to bind on, a process called osteoblast. It increases bone density, bone strength and gives your bones flexibility.
85% of tendons and 75% of ligaments consists of collagen. It improves joint flexibility and therefore reduces joint pain and discomfort. It supports mobility and stabilizes joints.
Get collagen benefits from SONTAL Peptan HC
It is recommended that you start using SONTAL bioactive Peptan® from the age of 30. You should take 10 g daily as a drink or add it to your food. You can also use it in your food if the appropriate flavour profile makes it palatable.
It helps with injury prevention, wound healing and overall health.
Choose to improve your quality of life, fight ageing, enjoy a healthy life.
Mix 10g (1 x Scoop) with water and stir until fully dissolved, drink as is or add ice for a refreshing cold drink. If flavoured then add to yoghurt, smoothie, milkshake or protein shake with a neutral or similar flavour profile.
More Information
SONTAL BioActive Peptan® contains Peptan hydrolyzed bovine collagen Type I. The contents of the product are pure Peptan and contain no additives at all. As your body ages, collagen production in your body slows down and your level starts to decline. This process already starts as early as your mid-twenties.
A large part of the protein in your body consists of collagen, specifically Type I.
Studies have shown that Peptan is highly bio-available and have an absorption rate of 90%. In other words, it gives structure to your body and is important for healthy skin, bone, tendons, ligaments and more. It further proved to enhance skin health by increasing elasticity, smoothness and hydration of the skin.
Research has shown that type I peptides can stimulate the endogenous production of collagen in bone tissue, triggering osteoblasts (bone formation cells) and increasing bone size and firmness.
From 20 years of age, the production of collagen by your body starts to decline. From age 25 your stores decline by as much as 1.5% per year. At the age of 40 it has declined by approximately 50%. It is therefore wise to take enough as a dietary supplement.
By taking a daily dose of 10g will help slow down the loss and therefore help to slow down the effects of ageing.
It holds the key to maintaining your quality of life
Peptides are a 100% natural and safe ingredient derived from proteins. Used worldwide, it has been scientifically found to improve overall joint mobility, bone structure and the natural beauty of the skin.
Benefits:
– Scientifically Proven Efficacy:
– Improve skin moisture level
– Decreases Joint pain
– Improves smoothness of the skin
– Improve joint flexibility
– Reducing the number of micro furrows
– Improves mobility
– Prevent the formation of deep-wrinkles
– Increase bone density
– Stimulates endogenous production of collagen
– Improve bone flexibility
– Stimulation of hyaluronic acid (GAG) synthesis
– Reduces risk of fractures
– Decreases collagen fragmentation
– Muscle Recovery
– Increases collagen density
– Source of Protein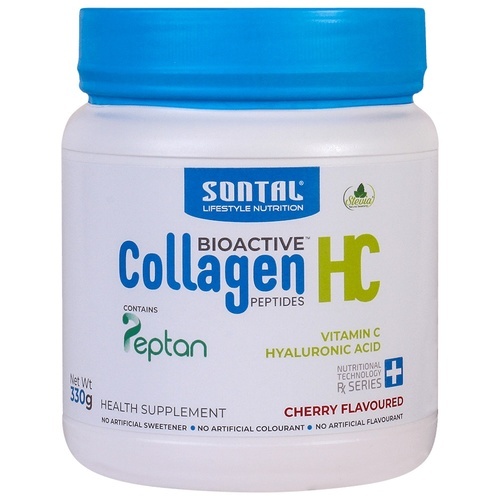 To find reseller <Reseller>
Collagen products you might be interested in: