Sontal Marine Collagen 90 Capsules
R 298.00
SONTAL BioActive Marine Collagen is a "state of the art" nutri-cosmetic supplement designed to promote healthy, strong and hydrated skin that looks and feels more youthful.
Format: Capsules | Volume: 90 Capsules
Serving size: 2 Capsules g | Servings per container: 45
Category: Food Supplement
Payment options during checkout: (1) Pay securely online. (2) Pay via EFT after placing your order.
Free shipping on orders over R 1 000.00!
Dispatch same day as order
Customer Satisfaction
Secure Payments
Description
Sontal Marine Collagen 90 Capsules
 

could improve your quality of life.

SONTAL BioActive Marine Peptan® Collagen is a macronutrient and consists of protein. More than 30% of the protein in your body is collagen. Therefore Collagen benefits you in different ways. For instance, it increases bone density and bone strength.

At the same time, it improves joint flexibility and therefore reduces joint pain and discomfort. Get collagen benefits from SONTAL Bio-Active collagen.

It is recommended that you start using bioactive pure peptan® collagen from the age of 30. You should take 10 g daily as a drink or add it to your food. You can cook with it or use it in beverages and cereal.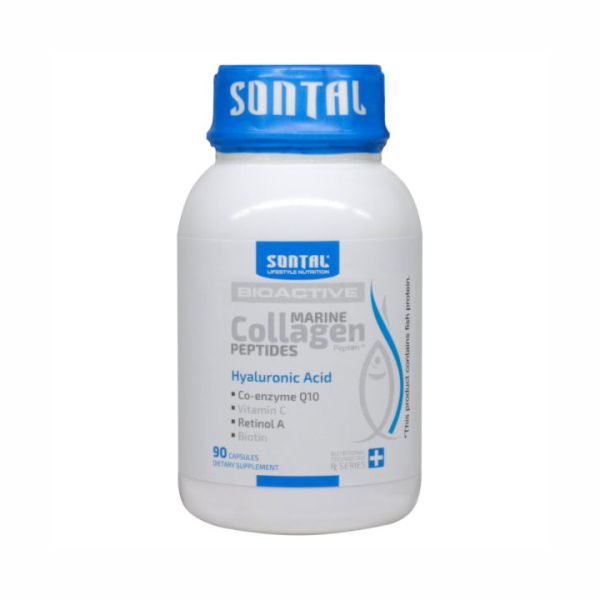 Collagen Information
Skin Health: Collagen is the support structure of the skin and gives skin its firm properties, it is also the structure for elastin and hyaluronic acid to bind to. Elastin gives skin its elasticity and hyaluronic acid helps with keeping the skin moist and plump.
Bone Health: Collagen is the "scaffold" for bone and gives bone its structure. 90% of organic bone consists of collagen and is the framework for minerals like Calcium to bind to. Collagen gives the bones their strong flexible nature and prevents bone fractures.
Connective Tissue Health: Tendons consist 85% of collagen type I. A tendon is a fibrous connective tissue that attaches muscle to bone. Tendons may also attach muscles to structures such as the eyeball. A tendon serves to move the bone or structure. Collagen gives this essential tissue its strength and flexibility.
Cartilage Health: 70% of the tissue in the cartilage is collagen. There are two distinct collagen types found in cartilage, Type I Fibro-cartilage and Type II elastic and hyaline cartilage. Collagen Type II is mainly found in elastic cartilage and hyaline cartilage and is a weaker type of collagen.
Hyaline cartilage is glass-like (hyaline) but translucent cartilage is found on many joint surfaces.
It is also most commonly found in the ribs, nose, larynx, and trachea.
Ligament Health: 70% of the tissue in the ligaments consists of collagen. Description. Ligaments are short tough, flexible tissue, made up of lots of individual fibres, which connect your bones together.
The function of a ligament is to provide a passive limit to the amount of movement between your bones.
SONTAL Bioactive Marine Peptan® Collagen contains Peptan hydrolyzed fish collagen Type I. The contents of the product are pure Peptan and contain no additives at all. As your body ages, collagen production in your body slows down and your collagen level starts to decline.
This process already starts as early as your mid-twenties.
A large part of the protein in your body consists of collagen, specifically collagen type I.
Collagen gives structure to your body and is important for healthy skin, bone, tendons, ligaments and more. Studies have shown that Peptan hydrolyzed collagen is highly bio-available and has an absorption rate of 90%.
It further proved to enhance skin health by increasing elasticity, smoothness and hydration of the skin.
Peptan Research has shown that collagen peptides can stimulate the endogenous production of collagen in bone tissue, triggering osteoblasts (bone formation cells) and increasing bone size and firmness.
30% of the protein in your body consists of collagen. From 20 years of age, the production of collagen by your body starts to decline. From age 25 your collagen stores decline by as much as 1.5% per year.
At the age of 40 your collagen stores have declined by approximately 50%. It is therefore wise to take collagen as a dietary supplement.
By taking a daily dose of 10g of Collagen will help slow down the loss of collagen and therefore help to slow down the effects of ageing.
Peptan® holds the key to maintaining your quality of life
SONTAL BioActive Marine Peptan® Collagen peptide is a 100% natural and safe ingredient derived from proteins. Used worldwide, it has been scientifically found to improve overall joint mobility, bone structure and the natural beauty of the skin.
Collagen products you might be interested in: